Discussion Starter
·
#1
·
Ok, seeing all the nasty snow on the west coast has led me to install the winter tires on the Tribeca, even though there is no snow here yet at all. When it comes I want to be ready. My wife has a long commute thus the reason we like Subaru's for winter driving.
As some of you may remember, I purchased a set of Michelin Latitude X-ice winter tires installed on new ASA alloy wheels from Tirerack. I'm in Canada and I was going to Maine to get my father's tribeca so I had the dealer there get them for me. They had a commercial account with Tirerack and could actually get them a little cheaper than I could. I had no problem getting these tires home and everything went well crossing the border.
I paid $950 in total, including Maine Tax for the 235-65-17 tire/wheel set. Tirerack had OE size 255-55-18 wheel sets but the selection was far less and the cost was significantly more. Narrower tires work better in snow anyway. Besides, I had used 15 inch styled steel wheels from a Forester L on my Forester S (which had 16 inch wheels) for years with no problem. Tirerack said the 17's would fit, I checked the diameter and they were virtually identical 65-17 vs 55-18, so the speedometer should be unaffected.
I thought I might install them myself, but after removing the lug nut caps, and trying to see how tight they were, I realized I was in for a struggle. I'm guessing they had been torqued on super tight. So I opted to go to an independant mechanic friend who always worked on my Forester. I was a little nervous that the bolt pattern wouldn't match on these new wheels. I had asked the dealer to try them out but they hadn't gotten an opportunity.
We got the old wheels off and started with the new ones. They fit on fine which was a relief. The new set of wheels had come with fancy, chrome, acorn style lug nuts since the nuts were visible I presume. Here's where we had a problem. The new lug nuts didn't seem to want to go on properly. The old ones went on really easy but the new ones would start on the studs but would require effort to get them to turn. My mechanic friend said they must be the wrong size and we should not use them. I was inclined to agree. So we used the old lug nuts which worked fine but just didn't look as good.
I came home and after some research, I discovered that the lug nuts were in fact the wrong size. 12mm 1.5 and it turns out this is a popular size but I actually needed 12mm 1.25. The difference has something to do with the thread angle I think.
Called Tirerack and the dealer in maine. Tirerack is sending the new ones to the dealer who is sending them to me. So for now I have the old ones on.
See the pics below. You can see that winter hasn't hit east coast Canada yet.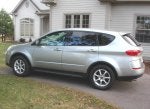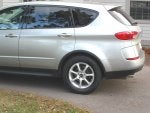 One odd thing, I expected the TPMS warning to go off and it didn't....then I realised that the old tires were in the back of the Tribeca....However, even after I unloaded them, there was still no warning. Tirerack does have the option to install a TPMS sensor but I declined the $400 option....unless they installed it by misstake. It will likely come on soon.
And yes, I will re-check the torque on the tires after a few miles.