Discussion Starter
•
#1
•
Hey guys. Sold our Tribeca a while ago for a larger family vehicle with our 3rd child coming into the world, so I have some audio equipment for sale that works great, including a custom harness to run an upgraded amplifier inline with the factory stereo and wiring (it's plug and play, no cutting factory wiring).
What I have:
Tribeca wiring harness for inline amp usage (combination of AE 64 custom harness and a metra vehicle harness, IIRC):
$25 shipped to lower 48.
I also have the JL audio compact amp (50w RMSx4) that fit behind the HVAC and stereo and drove the speakers, purchased new in 2016: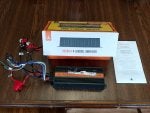 $145 shipped.
And Morel Maximo speakers that I used in the factory locations (including the tweeters). These were purchased new in 2018. They sounded absolutely dynamite paired with the JL amp and RaamAudio sound deadening in the doors. I've heard $2,000 optional stereos in new vehicles that didn't come close.
Components $120 shipped
Coaxials $80 shipped
Any of the speakers sold to someone with a Subaru will include free door adapter rings (I have some Seascooby wood ones and some plastic ones from Crutchfield) and wiring adapters at no additional charge.
I will offer a significant bundle discount to someone who takes all of it as I save some shipping and hassle.

Please PM/DM me with all offers. Questions can be asked within the thread.